Secure and Flexible Retail Warehousing Options
Whether you need extra storage space for your retail merchandise or prefer the simplicity of having your retail goods readily available for quick delivery to meet fast-approaching deadlines of distribution centers, Averitt can provide you with a warehousing solution to meet your needs.
Our secure service centers and warehousing facilities are all part of our broader less-than-truckload (LTL) distribution network, which means that your products can be out the door and to their destination as quickly as possible. Unlike traditional warehousing companies, we provide retail suppliers flexibility in how they utilize our storage services. From short-term solutions on our walled-in docks to long-term operations in a dedicated facility, we can scale the service to meet the size of your business.
Additional Value-Added Warehousing Services:
Order consolidation and deconsolidation
Barcoding and labeling
Kitting and light assembly
Expedited shipments
White glove services
Retail Warehousing Solutions For Any Business
Regional Warehousing
All across the Southeast and in select locations in Chicago, Milwaukee, and Los Angeles, we can provide you with quick access to store your warehouse merchandise at our facilities. Our retail storage locations offer spacing from 500 to 200,000 square feet.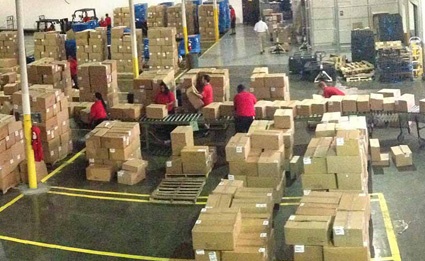 Dedicated Warehousing and Distribution Facilities
For businesses that maintain a large amount of inventory that is used for replenishing numerous locations or sending out shipments on a frequent basis, Averitt can establish, staff, and manage dedicated facilities to streamline operations. With decades of experience, our specialized Retail Distribution Services team has managed warehousing and distribution facilities for some of the biggest names in retail.
Utilize a centralized warehousing/distribution facility for:
Flow-Through Distribution to establish quick turnaround times and Speed to Shelf
Customized regional and national transportation models such as pool distribution
Full-scale inventory management, processing and storage
Warehouse Management System (WMS) Integration
For retail suppliers and e-commerce businesses that rely on a rotating inventory of numerous SKUs, Averitt can provide WMS service in conjunction with warehousing. This cutting-edge technology gives retailers the ability to maximize their overall supply chain efficiency while cutting costs.
Just a few benefits of using WMS with retail storage:
24/7 online access to inventory management
Variety of notifications for changes to stock and order statuses
Reduction of data entry errors with barcode scanners
Video: Warehousing Solutions in Fort Smith, Arkansas
Our Fort Smith service center is just one example of how we have transformed a traditional trucking terminal into a multi-service facility. From Fort Smith, we are helping customers reduce their overall storage costs and transit times to market.
> Watch the video here!