CONNECTING THE DOTS OF THE RETAIL READY SUPPLY CHAIN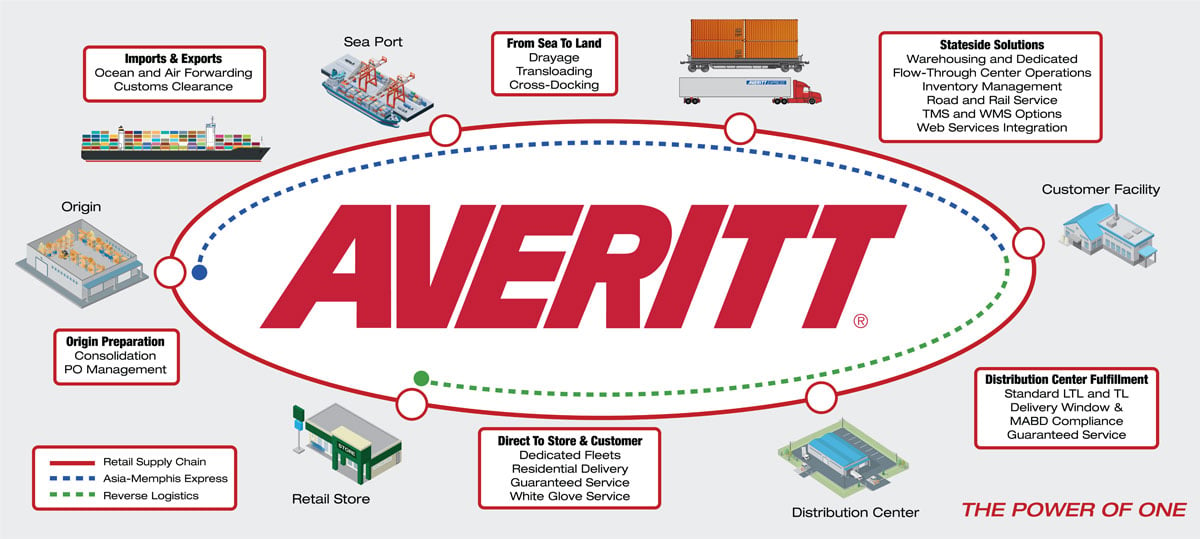 streamline | transitive verb | to make (something) simpler, more effective, or more productive
Retail supply chains consist of several different links that hold a business together. When one link of the supply chain is weak, it can create negative consequences for the entire business. At Averitt, our retail transportation and logsitics experts work with business owners around the country to provide services that strengthen each point of the supply chain.


Do You Think Your Supply Chain Could Be Improved?
Averitt can provide an all-in solution that encompasses point-of-origin pickup and importing all the way to final customer delivery. Or, we can fill in the spaces that need attention.
Whatever your situation may be, we can help you achieve your supply chain and transportation goals to become a Retail Ready Shipper.
What are you waiting for? Request a free transportation and supply chain strategy evaluation today.
Or call 1-800-AVERITT
China, Korea, Mexico, and Europe: straight to Your Door
With decades of international experience and operations in China, Averitt has built a solid reputation among retailers for simplifying the importing and exporting processes. Our team of international experts help businesses identify ways to overcome the legal and logistical challenges of managing an international supply chain.
From foreign origin to port destinations along the East, West, and Gulf Coasts, Averitt can handle it all, including:
International Ocean and Air Forwarding
In-house Customs Clearance and Document Processing
Innovative multi-modal solutions (such as the Asia-Memphis Express)
Move Cargo To and From Your Port of Choice
Getting your merchandise across the ocean is only part of the retail supply chain journey. We provide transportation services to and from every major port across the nation. Utilizing our distrbution network and facilities, we can prepare and process your retail products to be transloaded between different modes of transportation or haul containers straight to your ramp.
Watch our PortSide® Services Video and see how you can benefit from:
Utilization of Averitt-owned chassis and specialized container equipment
Full Container Load (FCL) and Less-Than-Container-Load (LCL) services
Transloading of cargo between truck trailers or rail service
And much more...
Flexible, Reliable, And Always In Good Hands
Storage space and trained hands can account for a big chunk out of a business's overall supply chain costs. Utilizing our distribution facilities and dedicated operations, we are helping customers reduce those costs and minimize the hassle of maintaining on-site warehousing and inventory management.
What sets Averitt's warehousing and storage capabilities apart from the rest?
Flexible Agreements to meet changes with seasonal demand
Warehouse Management System (WMS) for easy online management
Weather-safe facilities and 24/7 security to protect your merchandise
Quick access to our distribution network for fast delivery throughout North America
Merchandise Preparation For Store Shelves and Final Delivery
Our distribution facilities are equipped to make your life much easier. With professional associates and a specialized retail team on-hand, we can prepare your products for immediate delivery to store shelves. With your products prepared and ready for delivery, you can focus on networking and growing your business.
We provide a variety of mechandise processing services, including:
Shipment Consolidation and Deconsolidation
Pick and Pack
Kitting and Light Assembly
Barcoding and Labeling
From Regional to National and Anywhere Inbetween
Take advantage of a full range of distribution capabilities that span across North America. Whether you're a medium-sized supplier or an emerging etailer, we can scale operations to meet changing demand and seasonal needs throughout the year.
Here are just a few distribution services that we can help your business excel with:
Distribution Center Fulfillment
Direct-to-Store Less-than-truckload (LTL) and Truckload (TL) services
Customized distribution strategies
> Learn more about Averitt's retail distribution capabilities!
Why Settle For less When You Can Have The Best?
Rest assured with the knowledge that your merchandise is in the hands of a company that values professional image and has a trackrecord of maintaining low claims rates that are below industry averages. We work with a variety of retailers, including nationwide chains and local independents, to provide them with reliable delivery services.
Ship Retail Ready with a variety of solutions:
Dedicated truckload routes and fleet management
Shipping freight directly to customers via residential delivery
Need quick turnaround? Take advantage of Guaranteed Service
Custom delivery options with specialized equipment